from 28 August 2017 to 01 September 2017 (America/Bogota)
Universidad Nacional de Colombia - Universidad de los Andes
America/Bogota timezone
Venue
Location
The meeting will be hosted at Universidad de Los Andes (UNIANDES) and at Universidad Nacional de Colombia (UNAL) in Bogota, the capital city of Colombia (UTC/GMT -5 hours).
You can get to Bogota by plane or by bus. The El Dorado International Airport is located around 30 minutes from downtown by taxi, and the transportation terminal is located about 20 minutes from the city center.


Getting to Universidad Nacional and Universidad de los Andes
You can get by taxi or by bus. You can also use Transmilenio, an efficient transport system that bypasses the traffic of the city. Using a bicycle is also a good option (Bogotá has Latin America's largest network of bicycle routes).

The short courses will be held from Monday 28 August to Wednesday 30 August at National University, Building 476, Juan Herkrath Auditorium.

The conferences will be held on Thursday, August 31 and Friday, September 1 at the Universidad de los Andes, W-101 conference room.


---
Power Sockets and Plugs
The standard voltage in Colombia is 110V with a frequency of 60Hz, and the standard power sockets are type A and type B as shown below.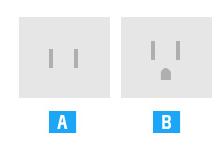 We strongly recommend to bring a universal adapter and make sure that your electronic devices allow 110 V. The adapter could be like the shown in the following pictures.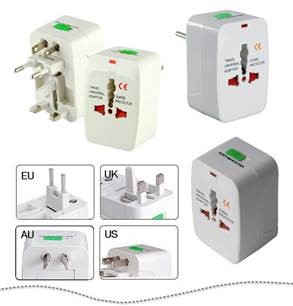 ---
Hotels
There are several hotels relatively close to both universities. Some recomendations are:
---
Visas
Traveling to Colombia has no restrictions, and for stays under 90 days you do not require a visa, if you come from one of the countries listed here. However, if you are not a colombian resident, you must obtain the entry and stay permit (PIP, from its spanish acronym), that will be issued by the Special Administrative Unit Migration Colombia to those foreigners that do not require a visa. Please be sure that immigration official puts on your passport the PIP-6 (see image below). At the event registry you must present your passport with this permit.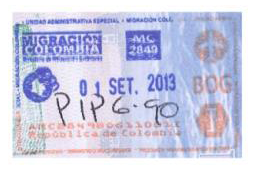 ---
Tourism
You can find more tourism information in the following links:
Medical insurance while in Colombia
We strongly recommend you to buy some medical insurance that will cover you against accidents or unexpected illnesses during your trip to Colombia.